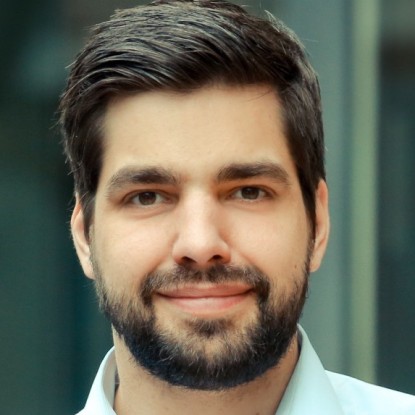 PhD student
Contact
bastian.alt@tu-...
work +49 6151 16-57 239
fax +49 6151 16-57 241
Work S3/19 1.8
Rundeturmstraße 12
64283 Darmstadt
Bastian Alt received his B.Sc. and M.Sc. degrees in Electrical Engineering and Information Technology from Technische Universität Darmstadt in November 2013 and December 2016, respectively. His master thesis was entitled "Robust and Sparse Regression for Linear Inverse Problems". He joined our team in January 2017.
Bastian is part of the Collaborative Research Centre (CRC) 1053 "MAKI– Multi-Mechanisms Adaptation for the Future Internet" in sub-project B4. He is interested in modelling of network systems. For this tools from machine learning/ statistics, control and optimization are used.
His research interests include topics from machine learning and control such as Bayesian inference of Markov chains, Bayesian non-parametrics, Bayesian optimization, stochastic optimal control, planning in Markov Decision Processes (MDPs), reinforcement learning and bandit algorithms.

Possible applications include learning and control of communication systems, e.g., in queuing networks.
Possible Student Projects you can find here.
Number of items: 11.
2021
2020
2019
2018
2017
Completed Student Projects
Tristan Tisch
(Bachelor thesis)
The Linear Noise Approximation for Bayesian Optimization in Chemical Reaction Networks
05/2021
Dirk Schweickard
(Bachelor thesis)
Kollektives Explorationsverhalten – inspiriert von der Biologie
05/2021
Wladimir Reiswich
(Master thesis)
Positioning and Attitude Estimation of Quadcopters
04/2021
Gabriel Krack
(Bachelor thesis)
Stochastic Model Predictive Control for Quadcopters
10/2020
Erik Samstag
(Bachelor thesis – co-supervision w/ IAS TU Darmstadt)
Bayesian Optimization for Biochemical Dose Response Measurements
10/2020
Michael Suffel
(Master thesis)
A Decentralized Multi-Agent Model Predictive Control Framework for Quadcopters
06/2020
Florian Swienty
(Master thesis)
Decentralized Collision-Free Flight of a Quadcopter Swarm
04/2020
Lu Wan
(Master thesis)
Path Integral Control for Quadcopters
03/2020
Sebastian Wirth
(Bachelor thesis)
State Space Reduction Using Variational Autoencoders
12/2019
Intisar Naheen
(Master thesis)
Bayesian Reinforcement Learning with Maximum Entropy Finite State Controllers
12/2018
Hans Stenglein
(Bachelor thesis)
Optimal Planning with Model Uncertainty
11/2018
Hameer Abbasi
(Master thesis – w/ Wasiur KhudaBukhsh)
Decentralised Decision Making for Queueing Systems
08/2018
Co-Supervised Student Projects
Sakshi Goyal
(Master thesis – co-supervison w/ Visual Inference TU Darmstadt)
Instance Segmentation with Group Proposals
Yue Wang
(Master thesis – co-supervison w/ Ubiquitous Knowledge Processing (UKP) Lab TU Darmstadt)
Addressing The Speakers' Persona Consistency Issue in Neural Conversational Agents
12/2019
Sumanth Venugopal
(Master thesis – co-supervison w/ Audi Electronics Venture GmbH)
Bayesian Optimization for Deep Learning Based Object Detection
06/2019
Deepti Joshi
(Master thesis – co-supervison w/ Robert Bosch Automotive Steering GmbH)
Verification of Reliability Prediction Models for Practical Suitability and Implementation of Improvements
04/2019
Sakthivel Velumani
(Master thesis – co-supervison w/ Intel Deutschland GmbH)
Design and Implementation of Improved Decoding Algorithms for LDPC Convolutional Codes
01/2019